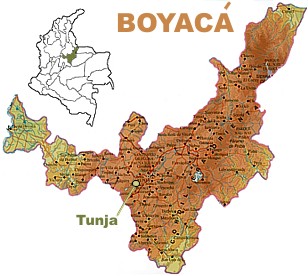 BOYACA
Inhabitant: Boyacense
In the languages of
Chibcha or Muisca
, Boyacá means 'Surroundings of the Overlord' or 'Region of Blankets'. When the Republic of Colombia was born, Boyacá received the title "the origins and the road to freedom" because the first battles for emancipation of the
Bolivarianos
countries were planned and won in Boyacá.
The department was created by virtue of the 1886 Constitution. It was the land of the
Muisca
natives. Many descendants of that great civilization still live in the region.
Its territory covers an area of 23,189 square kilometers and about 1,400,000 people live there. Boyacá lies in central-east Colombia and it borders the departments of Santander, Norte de Santander, Antioquia, Meta,
Cundinamarca, Casanare and Arauca, and the Republic of Venezuela.
This department has many different climates, from the very hot climate in the low region of Puerto Boyacá to the very cold temperatures in the high altitudes and snow-capped mountains Nevado de Güican and Sierra Nevada del Cocuy .
Boyacá is rich in iron deposits, particularly in the region where the Paz del Río steel mill is located. It is also rich in asphalt, silver, kaolin, quartz and the emerald mines of Muzo and Chvior where the most beautiful and valuable emeralds in the world are extracted. Furthermore, Boyacá is an important center of handicrafts.
Tota Lake is one of the prettiest spots in the department; so are the natural national parks of El Cocuy, Iguaque and Pisba. There are also important national and historic monuments such as El Pantano de Vargas, La Ruta Libertadora in Paipa, the train station of Chiquinquirá, the Bridge of Boyacá, the Sanctuary of Iguaque, the desert of La Candelaria and the valley of Tenza, among others.
Villa de Leyva is one of the best preserved cities in Colombia.
Capital:
Tunja
Its name comes from the Chibcha natives tribe word
tchunza,
which means "territory of the
Z aques
overlords
"
.
Tunja is a historic city with beautiful colonial architecture. It is also known as "the city of hidden treasures". Big colonial houses, full of geraniums and flowers that thrive in cold weather, enhance the beauty of this city, home to about 200,000 people. The average temperature of Tunja ranges from 10 to 13 degrees Celsius. Tunja is the coldest city in Colombia.
Historic places like
la Casa del Fundador
, ("the Founder's House"),
el Pozo de Donado,
(the "Well of Donado",)
el Monumento a La Raza
, ("the monument honoring 'The Race'"),
el Monumento al Trigo
("the Wheat Monument") called
La Fuente Grande ("
the Large Source") and the Church of Santo Domingo are remarkable tourist attractions. The famous Bridge of Boyacá is located 14 kilometers from Tunja.
It is worth mentioning that the first Colombian painting was registered in Tunja. It is the Virgin of Chiquinquirá image, painted on a native blanket by the Spanish artist Alonso de Narváez in 1551.