The Eastern Plains
CASANARE
Inhabitant: Casanareño
Casanare is a region with beautiful landscapes and a great variety of plants and animals. It is also rich in oil and natural gas.
The
Intendencia Nacional del Casanare
was created in 1973. Before this date, it was part of the department of Boyacá. In 1991, Casanare became a department of Colombia.
Its land borders the departments of Arauca, Meta, Vichada, Boyacá and Cundinamarca. It spreads out over 44,640 square kilometres, which makes up 3.9 per cent of the national territory and 27 per cent of the Orinoco River region of Colombia.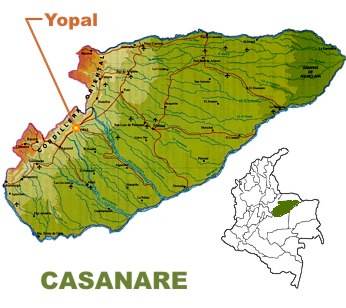 The department of Casanare has sixteen ecosystems that cover the flooding plains, the higher plains, the Andean forests and moors.
Cattle raising is the most important economic activity in this department.
There are oil operations in the municipalities of Aguazul and Tauramena. The oil fields of Cusiana and Cupiagua have grown in importance in recent years and so has its agriculture. Rice, banana, yucca, sugar cane, fruit trees and cotton, are significant crops. The commercial activities and services are located in Yopal.
There are approximately 300,000 people living in the region. It has fairly large groups of natives such as the Achaguas, the Goahibos, the Salivas, the Tunebos and some others.
The
Casanareño
is an excellent hunter, artisan and fisherman, and an expert builder of
caney
(wall-less structures with roofs made from palm leafs).
The people of Casanare celebrate traditional religious festivals like Holy Week, the festival of "Santa Rita", the day of the Holy Cross and Christmas.
Among their cultural expressions are the festival of
el coleo
and the
joropo
dance.
Capital:
Yopal
Its name derives from the native Achagua word
yopo,
which means "heart". The
yopo
is also a typical tree in the region.
The municipality was founded in 1942 at the foot of the Eastern
cordillera
(mountain range).
Yopal has nearly 95,000 people divided into different communities in rural and urban areas. In the urban area there are modern government buildings, cultural centres, educational institutions, recreational and business centres as well as different styles of churches.
The region has an immense variety of fauna, flora, water resources and is rich in hydrocarbons. It has great tourist and economic potential.