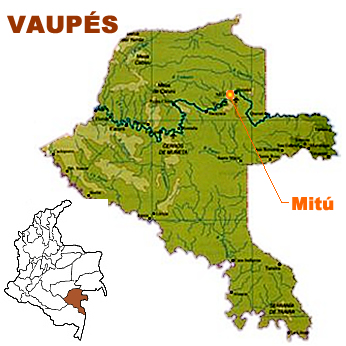 The Amazon Region
VAUPES
Inhabitant: Vaupense
The department was created by virtue of the 1991 Constitution.
It is situated in the Amazonian region of south-eastern Colombia.
Its landscapes are of extraordinary beauty and its climate reaches a temperature of 29 degrees Celsius. In September, cold winds refresh the environment.
Plains, prairies and jungle make up 90 per cent of the land. Plateaus are scarce and there are few hills. Its surface covers an area of 65,268 square kilometers.
Vaupes is bordered by the departments of Guaviare and Guainía in the north, by the department of Amazonas in the south, in the east by the Republic of Brazil and the department of Guainía and in the west by Caquetá and Guaviare.
Several rivers run through the department, such as the Vaupés River, the Apaporis, the Taraira, the Querarí, the Cuduyarí, the Isana and the Pacoa.
Vaupés' population is nearly 35,000.
Eighty per cent of its inhabitants are aboriginal groups, who belong to the
Cubeos, Guananos, Desanos
and
Tukano
tribes. The rest of the population is mixed racially between natives and Spaniards. There are also some groups of Caucasians.
The department's main source of income comes from the gold and uranium mining industry as well as the exploitation lumber. It used to be a big producer of rubber, but as the world's use of this product diminished, its production finished too.
Transportation is done mainly by plane, since rapids and turbulent waters make navigation on the rivers quite difficult. There is just one road between Mitú (its capital) and Monfort, a small town on the Brazil border.
Vaupés' native fauna is comprised of diverse wild animals:
toninas
, tigers, pumas, water dogs, otters, deer, limpets,
chigüiros
, wild boars, a great variety of monkeys, aligators, snakes, turtles, beautiful butterflies and birds like the toucan, This great diversity of flora and fauna make this land very attractive for tourists.
Capital:
Mitu
The Capital of Vaupes was founded by Miguel Raven Araoz in 1936. It currently has about 18,000 inhabitants.
The main economic activities of the municipality are services, fishing, forestry and agriculture. Among the tourist attractions are prehistoric carvings, caves and parks and, of course, the Vaupense, cordial an welcoming people.
Mitú has a good airport to bring supplies from the department's other regions.