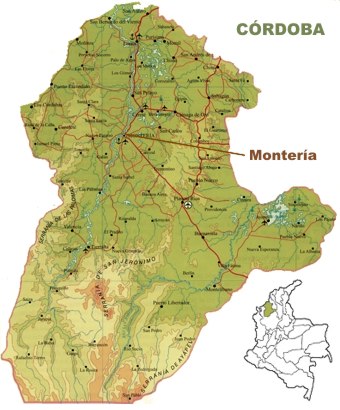 CORDOBA
Inhabitant: Cordobes
Established in 1951, Cordoba was named after José María Cordoba, one of the most outstanding leaders in Colombia's fight for independence.
Before 1951, the region was part of the department of Bolívar.
It lies along the coast of the Carribean Sea at the north end of Colombia. It is bordered by the departments of Bolívar, Sucre and Antioquia. Its surface covers an area 25,020 square kilometres.
The department is divided in two large geographical zones. A mountainous zone to the south and a plain conformed by the Sinú and San Jorge valleys to the north.
Before the arrival of the Spaniards, the territory formed a large part of the Zenú native empire. Although many of this civilization's traditions and customs have disappeared, some remain. For example, the famous and still popular hat known as the
sombrero vueltiao
or
sinuano
, is made by the native Zenú tribe that lives in the marsh of Momil, located in lower Sinú.
The current population of Cordoba (nearly 1, 390,000), is the result of a mixture between Spaniards, Natives, Blacks and immigrants from other countries.
Its main economic strength is agriculture. Córdoba raises more livestock than any other department in Colombia. Cotton, cocoa, coconut and bananas are significant cash crops. Other sources of income include fishing and nickel mines.
One of the important tourist places in Córdoba is Paramillo National Natural Park, which is shared with the department of Antioquia.
Capital:
Monteria
Once called the "city of the swallows", Montería is now known as "The cattle-raising capital of Colombia" and the "Pearl of the Sinú". It was founded in 1777 with the name San Jerónimo of Montería and it has been the departmental capital since 1951. It has approximately 350,000 inhabitants. It is located in the Sinú valley and is a river port.
Recently, great advances have been made in its architectural, road, and commercial development. The beautiful Cathedral of San Jerónimo is remarkable, as are the parks of Bolívar, Méndez and Laureano Gómez. This progressive city is also home to the University of Cordoba.