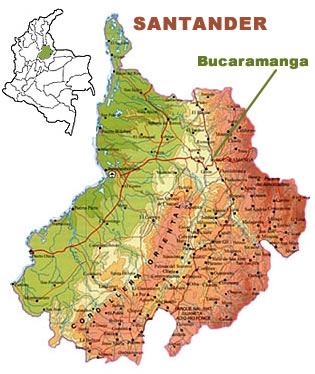 SANTANDER
Inhabitant: Santandereano
One of the most important regios of Colombia is the department (state) of Santander. It lies in the north-eastern of Colombia and borders the departments of Norte de Santander, Boyacá, Antioquia, Bolívar and Cesar. Its area is 30,537 square kilometres. It has around 2,087,000 inhabitants.
Its land is divided into two large geographical regions. On the western lies the Magdalena River valley. It is a mostly flat area with an average temperature of 29 degrees Celsius. The eastern side is home to the mountainous region of the eastern
cordillera
(mountain range) where the spectacular Cañon del Chicamocha is located. It is one of the most important tourist places in the department, along with the flora and fauna sanctuary Guanentá and the Afrodita waterfall, located near the town of San Gil.
The economy is based on agriculture, but it is quickly being surpassed by industries like cement production, textiles, processed food and metallurgy. Barrancabermeja's oil refinery is the most important one in Colombia and one of the best in Latin America.
The department also has an excellent communications system. The Magdalena River is used to transport most of their products all over the country.
Santander and Norte de Santander formed the Sovereign State of Santander. This state became a department in 1886 but was separated into two different political units (Santander and Norte de Santander) in 1909.
Before the discovery of the Americas, native tribes such as the Guanes, Yariguíes and Opones inhabited the region.
The conquest began in 1529 with the arrival of the Spanish conquistador Antonio of Lebrija, followed by Ambrosio Alfinger, Jiménez de Quesada and Martin Galeano. Santander has had a great quantity of European immigrants through the years, mainly from Spain and Germany.
Capital:
Bucaramanga
The picturesque and welcoming city of Bucaramanga is situated in the Valley of Río de Oro (Golden River). It covers an area of 165
square kilometres and its average temperature is about 28 degrees Celsius.
It was founded in 1622 by Andrés Trujillo and Andrés Páez of Sotomayor. It is believed that its name comes from the native words
bucar
(lord) and
amanga
(home ground).
The urban centre has all the advantages and infrastructure of a big city while keeping the charm of a small one. Nearly one million people live in this town.
Bucaramanga is known as the "city of parks" for its numerous green belts, which are kept as large gardens full of flowers and trees. One of them is the beautiful Garcia Rovira Park, located in the center of the city.
Bucaramanga has important museums such as the Museum of Natural History and Geology and the Fine Arts Museum, prestigious art centers, universities and educational institutions, industrial and commercial centers and a great variety of recreational places.